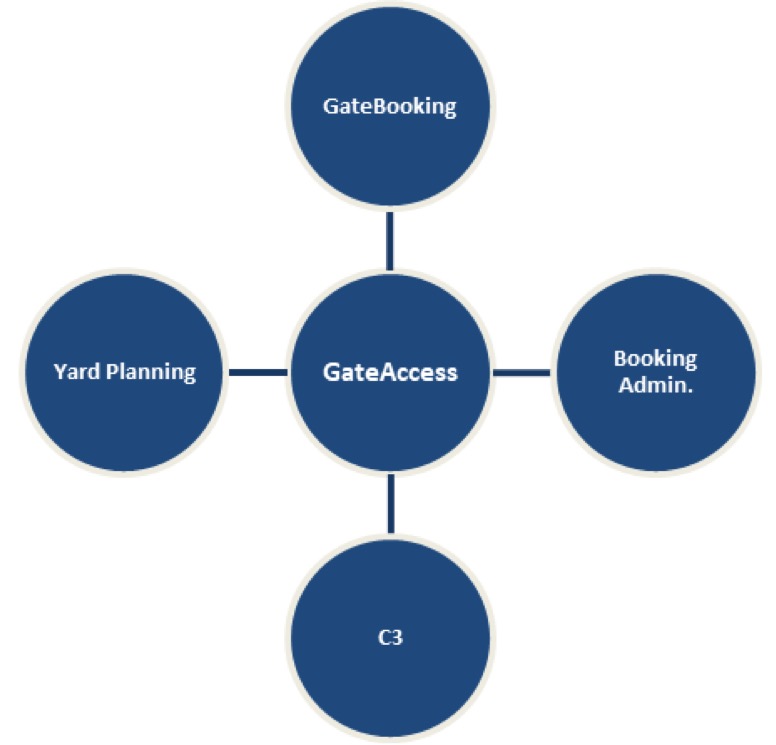 Our GOS solution reduces waiting time in gate queues and speeds up turnaround time at the terminal for trucks. The unmanned gateinstallation reduces work load for gate personnel significantly. Our gate solution supports all aspects of the logistics chain in & out of the terminal – fully paperless. Greenwave provides all elements of a full-scale automated gate solution, both software and technical equipment. We assist our customers in the planning process and the installation of the gate equipment.
In our comprehensive holistic solution, the TOS synchronization is an integral part. Adjustments to the terminal's internal processes and rules can be performed without the involvement of third-party suppliers.
Our in-house produced and assembled modular self-service gate-kiosk can be configured based on your local requirements. If you are operating an ISPS terminal you might have a higher security level than inland depots to give entry permissions to trucks. Depending on the scenarios happening at your gate, we configure the registration pages at the kiosk-PC and elaborate the right combination of equipment in the kiosk-tower.
Our complete gate solution encompasses a web-portal for pre-advising delivery and pickup of goods and units at your terminal / www.gatebooking.com. The orchestration of PC-screen views, local physical equipment and the TOS application is
run by the GateAccess module, a flexible rule engine to support all possible scenarios
Gatebooking.com is our internet portal for trucking companies and self-employed drivers for the booking of incoming and outgoing deliveries at goods terminals at a given date and timeslot. Arrival reservations help to plan resources and guarantee a queue-free day for visiting trucks.
Our booking-portal is directly linked with our T3-TOS- terminal operating system on the same cloud platform.
Trucking companies get their own GateBooking portal account. With registered and accredited drivers and trucks the booking process is shortened and simplified. Passage PINs are automatically made available for the accredited drivers and allows the entry on the fast lane.
The GateBooking portal makes communication possible between terminal and trucking company. Collaboration is the key for a smooth gate operation – GateBooking is facilitating it.
More Information
The practical features of GateBooking in short:
Creation and administration of entry cards
Accreditation of drivers and vehicles for ISPS terminal
Administration of gate-bookings and confirmation of full container handout
Communication between transporters and terminals with entire history
Log of all gate passages per truck and trucking company
Fully synchronized with the terminals TOS and more
Creation of ISPS documentation
Creation of transport orders etc.
Our booking portal facilitates also electronic confirmation of units/goods by consignees.
GateBooking can be deployed without the installation of local gate equipment like OCR cams, kiosk etc. Truck drivers meeting at your gate office will still experience a much faster turnaround.
The GateBooking functionality also enables the permanent connection between terminals, meaning that the creation gate-out moves at terminal X with destination terminal Y could automatically create gate-in gatebookings at terminal Y. Rules must of course be agreed between the terminals in advance.
In case of questions, we give all users fast and personalized support.
GateAccess orchestrates the interaction between the electronic gate equipment like OCR-cams, kiosk-PCs, traffic lights etc., GateBooking and all involved parts of the TOS application.
The built-in rule engine makes sure that the complete gate system works accordingly to customer-specific rules, scenarios and processes.
GateAccess is also the connector between third-party legacy systems i.e. for local access control, CCTV surveillance or others. Our experience shows that the complexity of integrations with external systems and equipment often is underestimated. Greenwave helps you to design the optimal solution right from project start.
GateAccess comprises elements like:
Trigging of adequate self-service kiosk-PC screens depending on booking type
Traffic flow control with barriers and traffic lights
Indication of meeting point on terminal for truck and hosting equipment
Gatekeeper functions in relation with the Booking Administration, release reference administration and customs clearance control modules of the T3-TOS
We accompany terminals through the entire process from gate-concept to normal gate operation.
The assessment of local conditions and regulatory frameworks are the starting point for a successful gate design. We help our customers in establishing a comprehensive requirement specification which serves as guideline for the entire project.
Gate projects involve making important decisions in relation with:
Alternative traffic pattern for drivers with or without valid pre-booking
Number of in / out lanes
Use of equipment i.e. boom, traffic lights, kiosk, OCR cams, card readers etc.
Use of existing local legacy equipment if feasible
Choice of access control system which steers barriers, doors, etc.
Communication networks
Supported processes and scenarios at the unmanned gate
Exception management and more
Construction
&

Installation Services
Gate kiosks are a key element for a significant improvement of the gate efficiency. Our kiosk systems are designed, produced and assembled in-house based on customer specification. The kiosk cabinet design and its size allow the placement of additional equipment like switches, power sockets, connectors for external units, etc. Our pedestal is climatized and resists harsh Nordic climate.
Due to its modular structure it can be mounted for trucks & cars/pedestrians or only cars/pedestrians. Replacement of defective units is easy since all parts are mounted separately in a removable front plate.
Typical equipment mounted in our kiosk are LCD touch screen, intercom, EIR ticket printer, card reader, driver camera, number keypad surveillance cameras and even biometric reader.
Local construction work in connection with the installation of power and communication lines is coordinated with the terminal and landlord. Together with our experienced partners we make sure that all equipment parts are installed and functioning as specified.
In case you want to use your own preferred and trusted construction companies, we are ready to collaborate with them to make your gate project a success.